Artist - Photographer - Director (Daniel j Hadley)
If you are looking for an artist whose focus and gift is discovering your visual greatest self, even when you do not see it, then you have found the right man. My name is Daniel Hadley and I have been a professional photographer for 18-years here. God gave me a unique gift of being able to capture the best in people photographically. Fortunately for you, I am a people person. I tear down walls of insecurities in a matter of minutes so we can focus on bringing out the best you. I love to start up conversations with total strangers, simply because I love the uniqueness and spiritual beauty in everyone. I do what I do for a living because I am passionate about being an artist and that will always come before being a businessman. I feel the Lord gave me natural ability, spiritual ability and the skills and equipment to provide this craft to others.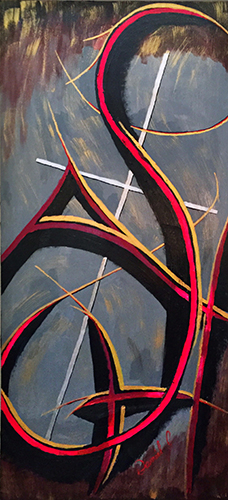 Acrylic abstract painting by: Daniel j
Something unique about artists is that they have multiple artistic interests and talents. My experience is that these unique combination of artistic talents creates an incredible blend of talent that transposes each art uniquely. For example, my artistic passions in photography are influenced by my passion for modern abstract and portrait acrylic paintings, illustrations of people, song writing/ composition/ and recording, guitar and vocal performance, graphic design, interior design, and web design. All of these artistic forms bleed into each other, in a rich synergistic way that makes each artist unique.
A fundamental element about me personally, is that I am a devout Christian who strives to make God my first priority. The reason I feel this is important to you, is because my faith is my foundation of everything I do. It defines every aspect of my ethics, character, professionalism, and my interaction with the people in my life.
Daniel Hadley - Christian, Father, Artist, Photographer, Singer/ Songwriter, Guitarist, Abstract Painter, Writer, Former Marine, World Traveler, Libra, Purveyor of Truth... Integrity and the depths of the human heart, Outdoor Enthusiast, Target Shooter, and Animal Lover.